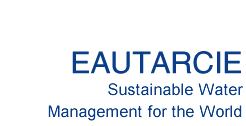 Rainwater Harvesting for Whole-House Reuse

Preamble
In terms of water supply, what you see occurring in the geographical areas surrounding the Mediterranean and in the coastal regions of the North Sea is a just foretaste of what we can expect in the future. More water is being drawn from the water table than what is being replenished by rainfall in more and more regions of Europe. In dry regions, wells of all kinds (including bore wells) are drying up, while on the coasts off the North Sea, salt water is penetrating more deeply inland.
Elsewhere, widespread pollution is progressively reaching our deepest water reserves. Presently (2015), it is not exaggerated to say that rainwater constitutes the only good-quality natural water source that is easily accessible to all.
So whole-house rainwater harvesting is an option that should be seriously considered. It is unfortunate that legislation in many European countries takes a stand that greatly limits prospective uses for such a valuable resource. Restricting rainwater use solely for flush toilets and garden irrigation is actually impeding the advent of true environmental awareness on sustainable water management, at both public and political levels.
On the other hand, unbeknownst to the great majority of specialists, the state of our water reserves is directly linked to our management of earth's biomass, and by extension, to the treatment of household wastewater (see pages on Ecological sanitation) Rainwater harvesting is but one aspect of sustainable water management.
Rainwater harvesting
Rainwater harvesting is usually classified in three options:
Minimum option
Rainwater harvesting is here limited to its reuse for irrigation and watering, cleaning, laundry and the flush toilet. This option presupposes doubling up the plumbing networks in the home, one for city water, and one for rainwater. Regulating authorities often demand this.
Intermediate option
This option extends rainwater reuse to include dishwashing, bathing and personal hygiene, while still reserving a few household faucets connected to the city water feed, for drinking water and kitchen needs. In this instance, to save high quality rainwater for more noble uses, we recommend connecting the flush toilet permanently to the city water feed.

Whole-house option
As the term « whole-house » clearly states, this option aims to provide the entire household with its water needs, including food and drink. The whole-house option is that of the PLUVALOR system. Each household then becomes its own drinking water provider.
The PLUVALOR system
The PLUVALOR system is a rainwater harvesting and recycling system for whole house reuse, including potable water. The term PLUVALOR is a neologism that has double meanings in French. It comes from the words « rain » (PLUie) and « valorization » (VALORisation) combined in a word that suggests added value (« plus-value ») for the home. The suffix OR meaning « gold » is symbolical of water as a precious substance. Its intent is to suggest improved water quality through sustainable water management practices.
The PLUVALOR system is not a manufactured off-the-shelf system. It differs greatly from rainwater harvesting systems that promote limited reuse of the water (i.e. for flush toilets and exterior taps). It also differs from other whole-house rainwater reuse designs mainly on technical aspects but also because of its holistic approach to water management, a reflection on the philosophy behind the entire EAUTARCIE web site. This site takes a scientific and practical approach to sustainable Ecological Sanitation.
My research on the advancement of rainwater reuse started in the 1970's at the Université Nationale de Zaïre in Africa. The research was completed at the Université de Mons-Hainaut in Belgium. The rainwater analyses performed during this research clearly showed that throughout its natural cycle, water is cleanest at the moment if falls from the sky, and this, in spite of atmospheric pollution.
Water's natural acidity, due mainly to the CO2 in the air presents an advantage for water reuse. Indeed, the materials selected for the cistern neutralise this acidity, and in the process, water absorbs useful mineral salts. In a good cistern, we thus end up with chemically neutral water, weakly mineralised and naturally soft (without dissolved calcium and magnesium salts). From a chemical point of view, it is the ideal starting point for potable water preparation. For this, we need to eliminate bacteria with appropriate filtering. A cistern that is built as per PLUVALOR principles constitutes an artificial reconstitution of a natural rock cavity, where water conservation works well.
Reclaimed rainwater, stored and filtered in respect of PLUVALOR guidelines satisfies all domestic uses, including drinking water. Generally speaking, water quality in this system is far superior to mains water supply. You will find that all recommended rainwater harvesting systems ultimately purpose to save city water. While not denying that city water consumption would be reduced, PLUVALOR's end-purposes differ. They include:

Helping people stay healthy with drinking water that is not chemically disinfected. Children are particularly sensitive to chlorine's harmful effects.
Providing superior comfort with better quality freshwater for other domestic uses. Non-chlorinated filtered rainwater is naturally mild and pure, making bathing and showering a pleasant experience. Cooking vegetables and meats in such water is easier. Coffee, tea, herbal tea and prepared drinks taste much better.
Saving on laundry, dishwashing and cleaning products. Rainwater's low calcareous content makes dishes crystal clean without having to use water softeners. The absence of calcareous deposits also extends the service life of home appliances and faucets.
Reducing demand on our natural water reserves by adopting whole-house reuse of rainwater. Reducing quantities of cleaning products and detergents will also help reduce pollution discharge into these reserves.
PLUVALOR also represents a reversal of priorities in the use of our water resources. Other systems recommend using rainwater for flushing the toilet, watering the garden, cleaning the home and even doing the laundry. In the PLUVALOR system, efforts go into saving rainwater, not city water.
When the roof is too small
When a home's rooftop is too small to cover a household's rainwater needs, rainwater harvested within a cistern must be prioritized for food preparation and drinking, followed by personal hygiene. Other uses like dishwashing and laundry come afterward. To save cistern water, you permanently connect the WC flush tank and all exterior taps (for the garage or watering the garden) to the city water feed. Thus, you use city water only when the cistern is dried up. Yet this concept is antagonistic to water distribution company technicians for whom it's a mad notion. These people are shocked by the fact that one should send their precious « potable » water down the toilet while preferring to drink one's reclaimed cistern rainwater. The PLUVALOR system has solid scientific grounds in its priorities. We can easily show that sending rainwater in the toilet is an environmental as well as an economic wastage.
To each his judgment on this matter… You must however not lose sight of the fact that by using rainwater, you become your own water provider, with all the responsibility this entails.

A region's annual rainfall obviously determines the quantity of water that can be reclaimed. In Southern Europe where annual rainfall can attain around 500 mm, each m2 of roof area will help capture around 500 litres. In mountain regions, water catchment can attain 1400 litres/m&sup2/year(excluding water lost through evaporation and overflow).
To visualize the general schematic of a PLUVALOR system, click here

.

To visualize an incorrect way to harvest rainwater, click here

.
Before getting into the more technical aspects of the PLUVALOR system, it is essential to address the question of rainwater quality and highlight notions on biocompatible potable water and on innocuous (or hygienic) domestic water for non-food uses.

To continue reading, go to page on Rainwater Quality